Meat Appetizers
Meat appetizers come in all shapes and sizes and can be made with any They can be made using ground meats,
thinly sliced deli meat or prepared meats, such as smoky link sausages, pepperoni, salami, etc. Perhaps one of the most popular form of meat appetizers is
meatballs
, because they can be using all sorts of ingredients as well as a large variety of sauces. Meat appetizers can feature simple small bite sizes of meat, such as cocktail weenies or chicken (breaded or not) served with dipping sauces. Some other examples of meat appetizers are pastries or wontons stuffed with meat or a mixture of meat and other ingredients, such as
Mini Calzones
,
Cheese and Sausage Croissant Bites
and
Cheese and Sausage Wonton Flowers
. Meat appetizers are especially great served at events where no dinner will be served; orl if dinner will be served, will be served quite late, leaving the guests hungry.
Meat Appetizer Recipes ▼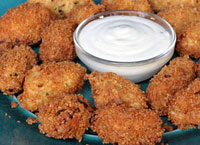 This
Panko Chicken Nuggets recipe
offers a pleasant change from traditional chicken nuggets. Rather than using solid pieces of chicken, this recipe combines small shredded pieces of chicken with other ingredients, giving them added flavor and a wonderful texture. The ingredients are formed (much like meatballs) into bite-size oblong shapes, dipped in egg, then coated with panko bread crumbs, giving them a crispy outer crust.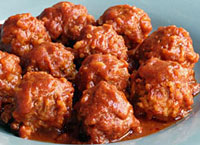 Porcupine Meatballs in Chili Sauce
is a tasty meatball recipe made with a mixture of lean ground beef, rice, diced celery, onions, green bell pepper and egg, along with a flavorful combination of seasonings. The richly red sauce is amazing in and of itself, made with a generous amount of tomato juice seasoned with chili powder, cumin, molasses and garlic. These meatballs can be made in 1 to 2-inch sized-meatballs.
This
Pork Dumpling recipe
(or Chinese dumplings) is a fun and flavorful meat appetizer that appeals to all ages! This dumpling recipe features wonton skins that are filled a mixture of shredded pork, soy sauce, sugar, freshly grated ginger root and minced garlic. The wonton skins are wrapped up around the pork mixture and twisted at the top. The dumplings are then are steamed until cooked and placed on a bed of a tangy sauce.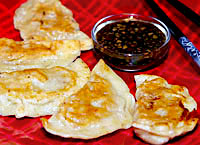 Pork Pot Stickers with Dipping Sauce
, also referred to as Jiaozi or Chinese dumplings, is a fun and tasty Asian dish that is wonderful served as a main dish or as an appetizer. This pot sticker recipe consists of a delicious mixture of ground pork and vegetables wrapped up in small pasta shapes and is served with a delicious dipping sauce that adds just the right flavor and boost for this Asian dish.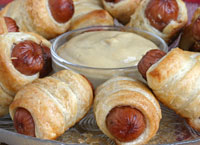 Sometimes the most simple of recipes can be the tastiest! These
Puff Pastry Sausage Bites
(often also referred to as Pigs in a Blanket) are made of mini cocktail weenies (often referred to as Little Smokies, Lil' Smokies or coctail sausages) wrapped in thin strips of puff pastry. The pastry wrapped cocktail weenies are then briefly baked until hot and lightly browned and served with a tasty and tangy Mustard Dipping Sauce.
Sausage Meatballs with Mustard Dill Sauce
appeal to all ages, and can be made using pork sausage or turkey sausage. They can be cooked on the stove top, baked in the oven, or cooked for several hours in a slow-cooker. The mustard dill sauce is smooth and creamy, with a wonderful hint of mustard and dill, and is easily whipped up on the stove. These meatballs can also be made as a main course over pasta or rice.