Meat Appetizers
Meat appetizers come in all shapes and sizes and can be made with any They can be made using ground meats,
thinly sliced deli meat or prepared meats, such as smoky link sausages, pepperoni, salami, etc. Perhaps one of the most popular form of meat appetizers is
meatballs
, because they can be using all sorts of ingredients as well as a large variety of sauces. Meat appetizers can feature simple small bite sizes of meat, such as cocktail weenies or chicken (breaded or not) served with dipping sauces. Some other examples of meat appetizers are pastries or wontons stuffed with meat or a mixture of meat and other ingredients, such as
Mini Calzones
,
Cheese and Sausage Croissant Bites
and
Cheese and Sausage Wonton Flowers
. Meat appetizers are especially great served at events where no dinner will be served; orl if dinner will be served, will be served quite late, leaving the guests hungry.
Meat Appetizer Recipes ▼
This
Cheese and Sausage Stuffed Mushroom recipe
is very easy to prepare, and produces bite-size mushroom appetizers with colorful eye appeal and full festive flavor! These tasty stuffed mushrooms are filled with a sautéed mixture of crumbled hot Italian sausage (sweet Italian sausage can be used instead, if preferred), minced garlic, diced green onions and diced mushroom stems, and some dried Italian herbs and other seasonings.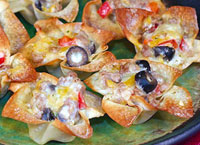 Cheese and Sausage Wonton Flowers
are not only pretty, they are very tasty! The wonton filling is made with browned and crumbled sausage, Monterey jack and cheddar cheeses, diced red bell peppers and sliced ripe olives, then combined with your choice of Chipotle Ranch Salad Dressing or Buttermilk Ranch Salad Dressing and baked in the oven for just 5 minutes. The kids will really enjoy helping you make these appetizers.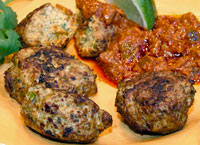 Chicken Koftas
are meatballs made with a mixture of minced chicken, spices and herbs. This
kofta recipe
is an Indian version consisting of chicken breasts that are quickly and easily minced together in a food processor with some Indian and other common spices and seasonings. The minced mixture is then formed into meatballs and fried in a modest amount of oil, then served with lime pickle.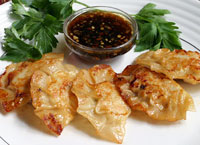 Chicken Pot Stickers
(also referred to as
Chinese Dumplings, Gyoza or Jiaozi
) feature wonton wrappers (or Gyoza wrappers) filled with a pureed mixture of chicken breast, garlic, green onions, water chestnuts, fresh ginger root and Napa cabbage and an egg to help hold the mixture together. This recipe also includes a delicious tangy Asian dipping sauce made with soy sauce, rice vinegar and an assortment of spices.
These chicken meatballs are healthy and delicious!
Chicken Satay Meatballs with Peanut Sauce
are made with shredded chicken breast, diced green onions, garlic, soy sauce, fresh bread crumbs and egg, and are baked in the oven. The meatballs are served with a fabulous sauce made with coconut milk, peanut butter, lime juice, brown sugar, fish or soy sauce, rice wine vinegar, and a touch of cayenne. Great as appetizers or a main course.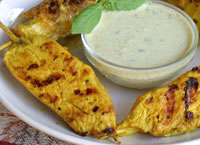 This
healthy chicken satay recipe
comes with a fresh and mildly tangy dipping sauce made with coconut milk and coconut cream, along with some curry paste, fresh ginger and fish sauce, as well as green chiles and fresh basil. The chicken skewers are marinated in a tangy and delicious marinade before grilling, creating the perfect flavor compliment to the Coconut Curry Sauce. This chicken dish is perfect as a main course or appetizer!