Meat Appetizers
Meat appetizers come in all shapes and sizes and can be made with any They can be made using ground meats,
thinly sliced deli meat or prepared meats, such as smoky link sausages, pepperoni, salami, etc. Perhaps one of the most popular form of meat appetizers is
meatballs
, because they can be using all sorts of ingredients as well as a large variety of sauces. Meat appetizers can feature simple small bite sizes of meat, such as cocktail weenies or chicken (breaded or not) served with dipping sauces. Some other examples of meat appetizers are pastries or wontons stuffed with meat or a mixture of meat and other ingredients, such as
Mini Calzones
,
Cheese and Sausage Croissant Bites
and
Cheese and Sausage Wonton Flowers
. Meat appetizers are especially great served at events where no dinner will be served; orl if dinner will be served, will be served quite late, leaving the guests hungry.
Meat Appetizer Recipes ▼
Chicken Satay with Peanut Sauce
is an easy and fun appetizer recipe to make that only takes a few minutes to cook on the grill. Tender thin strips of chicken breast are marinated in a sauce made with soy sauce, lime juice, fresh garlic, fresh ginger root and red pepper flakes. The marinated chicken strips are then pierced with wooden skewers and placed on the grill until they turn a nice golden brown, then served with a tasty peanut sauce.
Chicken Strips with Honey Mustard Sauce
is a quick and easy dish loved by all ages. Little strips of chicken breast are coated with a seasoned flour mixture, then fried to a golden brown. A honey mustard dipping sauce made with a simple combination of honey and Dijon mustard is served with the chicken, making this finger food not only tasty, but fun! This dish is great for parties, gatherings and potlucks as a main dish or hot appetizer.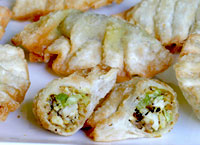 Chinese Tacos
are great for all ages! These Asian dumplings feature wonton skins that are trimmed into circles, then filled with a tasty mixture of minced cooked meat (pork, chicken or beef can be used), diced green onions, diced celery, thinly sliced Napa cabbage and diced Shitake mushrooms (optional), seasoned with soy sauce, curry powder and a dash of white pepper. The wontons are folded, pleaded, then fried until crispy.
Coconut Crusted Chicken with Apricot Dipping Sauce
features small strips of chicken breast that are lightly coated with corn starch, dipped in frothy egg whites, then rolled in flaked sweetened coconut and fried until golden and crispy. The crispy coconut coated chicken strips are served with a mildly spicy apricot dipping sauce made with apricot preserves, red pepper flakes and red wine vinegar.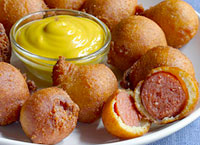 You can easily turn corn dogs into a fun and tasty appetizer with this
Corn Dog Bites recipe
.
Corn Dog Bites
have that same delicious crispy crust and tender hot and steamy inside that Corn Dogs are famous for, and are even easier to make! This photo shows
Corn Dog Bites
made with all beef weenies, but you can also use turkey, chicken, beef or pork weenies. For a surprising twist, cheese-filled weenies can also be used.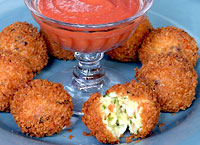 These petite
crab appetizers
are delicious and elegant, but also have an element of fun, due to their size and crispy coating and the fact that you can dip them into a tasty tangy sauce.
Crab Croquettes
are made with cooked crab, diced green onions, seasonings and some egg and panko bread crumbs. This mixture is formed into balls, coated with egg and rolled in more panko crumbs, then fried to a beautiful crispy, golden brown.