Vegetable Appetizers
Vegetable appetizers are colorful and full of flavor, and are great for providing snacks and finger foods that will entertain guests without ruining their appetite if you've got a meal planned for later. Needless to say, vegetable snacks also come with the
bonus of vitamins and minerals. Vegetable appetizers can be as simple as a tray of fresh veggies with one or more dips. Vegetable appetizers can come in the form of salsa, such as
Black Bean and Corn Salsa
, or be incorporated into a pastry appetizer, such as with
Broccoli Puffs
or
Parmesan Broccoli Balls
. Potatoes are incredibly versatile, and can take many forms when it comes to appetizers. For example,
Red Potato Salad Cups
are adorable appetizers, featuring small, hallowed-out red new potatoes filled with a diced red-potato salad with wonderful and unique flavor. Olives are very festive with vibrant tangy flavor, and can also be prepared in a variety of ways, such as with
Olive Cheese Balls
and
Olive Tapenade
, which is a dip made with two types of olives, capers and seasonings. This page is in its beginning stages, so as my quest continues, please check back again for newly added vegetable appetizer recipes!
Vegetable Appetizer Recipes ▼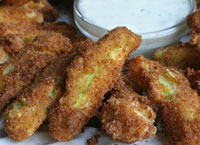 Whether you like to call them fried zucchini sticks or zucchini fries, one thing is certain - these crispy
Fried Zucchini Sticks
are universally enjoyed by everyone, including kids and the young at heart! For those kids who tend to shy away from green vegetables, these fun and tasty Fried Zucchini Sticks recipe will likely make them forget all about the fact that they're actually eating a green vegetable!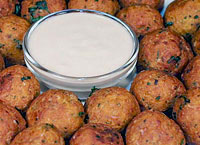 Garbanzo Ball appetizers
are made with a mixture of garbanzo beans (also known as "chickpeas"), lemon juice, minced garlic a little cayenne pepper and an assortment of herbs and spices. They are perfectly accompanied by a Tahini dipping sauce made with Tahini (also sometimes called "Tehina"), a paste made from ground sesame seeds, freshly squeezed lemon juice and a little water.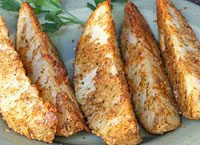 These
Garlic Parmesan Potato Wedges
are as easy to make as they are delicious! Simply cut some Russet potatoes lengthwise to create wedges, toss them in some olive oil, then toss them again with a super easy mixture of parmesan cheese, garlic powder, thyme, salt and pepper and pop them in the oven for 35-40 minutes, and you've got a fantastic tasting side dish, snack or appetizer!
If you're looking for fun and easy healthy appetizers for your event, you can't go wrong with pita pizza! This
Grilled Vegetable and Hummus Pita Pizzas recipe
features grilled pita bread rounds slathered with hummus, then topped with briefly marinated grilled vegetables. The vegetables can be grilled on an indoor grill or sautèed in a skillet. Make this appetizer using your own favorite style pita bread and hummus flavor!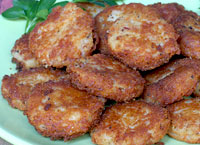 This easy
Ham and Cheese Potato Cakes appetizer recipe
features mashed potatoes combined with ground (or shredded) ham, shredded cheddar cheese, a little prepared mustard and some salt and pepper to taste. For an added kick, a dash of cayenne pepper and/or some minced or finely diced green onions can also be added for more flavor and texture, if desired. These little potato appetizers are also great served with dips!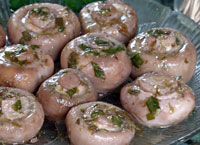 Even if you're not the biggest mushroom fan, chances are you're going to love these marinated mushrooms! This
Marinated Mushrooms recipe
(also sometimes referred to as "pickled mushrooms") features small white button mushrooms that are marinated in a tangy mixture of red wine vinegar, oil, garlic and herbs. They're incredibly easy to make, yet are packed with flavor! Perfect as an appetizer, side dish or with salads.