Vegetable Appetizers
Vegetable appetizers are colorful and full of flavor, and are great for providing snacks and finger foods that will entertain guests without ruining their appetite if you've got a meal planned for later. Needless to say, vegetable snacks also come with the
bonus of vitamins and minerals. Vegetable appetizers can be as simple as a tray of fresh veggies with one or more dips. Vegetable appetizers can come in the form of salsa, such as
Black Bean and Corn Salsa
, or be incorporated into a pastry appetizer, such as with
Broccoli Puffs
or
Parmesan Broccoli Balls
. Potatoes are incredibly versatile, and can take many forms when it comes to appetizers. For example,
Red Potato Salad Cups
are adorable appetizers, featuring small, hallowed-out red new potatoes filled with a diced red-potato salad with wonderful and unique flavor. Olives are very festive with vibrant tangy flavor, and can also be prepared in a variety of ways, such as with
Olive Cheese Balls
and
Olive Tapenade
, which is a dip made with two types of olives, capers and seasonings. This page is in its beginning stages, so as my quest continues, please check back again for newly added vegetable appetizer recipes!
Vegetable Appetizer Recipes ▼
This
Smashed Red Potatoes recipe
features small baby red potatoes that have been baked in a hot oven until soft, then coated with some olive oil and gently smashed down. A mixture of melted butter, sautéed garlic and fresh thyme leaves is then drizzled over the tops of the potatoes, seeping into the cracks and openings. The potatoes are then seasoned with some salt and pepper and roasted until brown and crispy.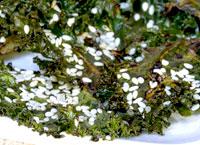 For those who love the flavor of potato chips but are not particularly fond of the calories,
Soy and Sesame Kale Chips
are a great healthy and tasty alternative! This healthy and easy snack recipe features kale that is tossed with olive oil and soy sauce, then baked in the oven until they become crunchy. During the last few minutes of cooking, sesame seeds are sprinkled over the tops, giving this healthy snack added flavor and texture.