Vegetable Appetizers
Vegetable appetizers are colorful and full of flavor, and are great for providing snacks and finger foods that will entertain guests without ruining their appetite if you've got a meal planned for later. Needless to say, vegetable snacks also come with the
bonus of vitamins and minerals. Vegetable appetizers can be as simple as a tray of fresh veggies with one or more dips. Vegetable appetizers can come in the form of salsa, such as
Black Bean and Corn Salsa
, or be incorporated into a pastry appetizer, such as with
Broccoli Puffs
or
Parmesan Broccoli Balls
. Potatoes are incredibly versatile, and can take many forms when it comes to appetizers. For example,
Red Potato Salad Cups
are adorable appetizers, featuring small, hallowed-out red new potatoes filled with a diced red-potato salad with wonderful and unique flavor. Olives are very festive with vibrant tangy flavor, and can also be prepared in a variety of ways, such as with
Olive Cheese Balls
and
Olive Tapenade
, which is a dip made with two types of olives, capers and seasonings. This page is in its beginning stages, so as my quest continues, please check back again for newly added vegetable appetizer recipes!
Vegetable Appetizer Recipes ▼
Olive and Tomato Bruschetta
is a colorful and healthy crost ini appetizer recipe featuring halved grape tomatoes, sliced green and black olives, diced celery and onion, julienned carrot and finely chopped parsley, all tossed together with olive oil and balsamic vinegar, then seasoned to taste with salt and pepper. This mixture is spooned onto your choice of grilled or broiled slices of baguette style bread.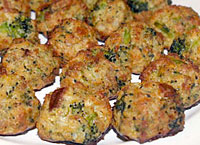 Parmesan Broccoli Balls
are fun vegetable appetizers with fantastic taste, and are loved by all ages. They have a slightly crispy outer shell, and are chewy and cheesy on the inside, with the added subtle flavor of broccoli and a wonderful blend of other ingredients.
Parmesan Broccoli Balls
are are made with a simple combination of chopped broccoli flowerets, prepared stuffing mix, Parmesan cheese, onions and egg.
Parmesan Veggie Bites
feature broccoli florets, cauliflower florets, sliced zucchini and mushrooms that are are dipped in melted butter then coated with a seasoned Parmesan cheese and bread crumb mixture. The Parmesan and bread crumb-coated vegetables are then baked in the oven for a short 15-18 minutes, until the coating has turned golden and crispy and the vegetables have become tender crisp.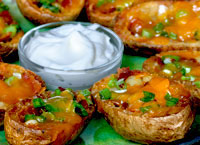 What could be better as a tasty and fun appetizer or side dish than some crispy potato skins filled with all the right goodies?! These
Potato Skins
are first baked, then cut into halves. Some of the pulp is removed, then they're then deep-fried until crispy. The crispy potatoes are then seasoned and filled with crumbled bacon, diced green onion and shredded cheddar cheese, then placed under the broiler until the cheese melts. A big hit!
Red Potato Cups
make a finger food great appetizer or snack or even a side dish in place of potato salad. This
baby red potato recipe
features boiled small red potatoes that have been hallowed out and stuffed with a tangy red potato salad made with diced red potato, fresh herbs, bacon, peas, Dijon mustard, red wine vinegar and olive oil. These adorable snacks are small enough to pop in your mouth all at once or can be eaten with a fork.