Kid-Friendly Appetizers
Kid Friendly appetizers are not just suited for young folks - they have all the qualities of
appetizers, perhaps just without the "stuff" (or what we call, "ingredients") kids have likely not learned to appreciate yet. Kid-Friendly appetizers and snacks can include anything from
bread appetizers
to
meatballs
to
chicken nuggets
or
chicken strips
, and certainly can include
dipping sauces
! One of the things kids love about appetizers is the fact that they come in petite sizes - almost as though they were designed specifically for kids. Appetizers can be a great way to include some vegetables or other healthy ingredients your kids would otherwise prefer to avoid, such as
Parmesan Broccoli Balls
, while watching them actually enjoying every bite! Kid appetizers are great for social events that include the young as well as the young at heart!
Kid Appetizer Recipes ▼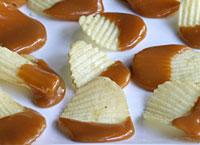 Looking for a super easy fun appetizer or snack for kids and/or caramel and potato chip lovers of all ages? These
Caramel Dipped Potato Chips
are easy to make, taste amazing, and will make plenty! All you need to whip up a batch of these Caramel Dipped Potato Chips is a regular size (about 12 oz.) bag of potato chips with ridges (such as Ruffles), and a few simple ingredients to make your own homemade caramel. Irresistable!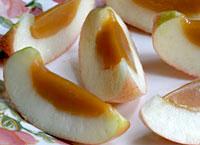 This
Caramel Filled Apples recipe
adds that fabulous caramel flavor to apples without the fuss of trying to bite through the caramel to get to the apple! This recipe is also very easy, and is the perfect fruit snack or fruit dessert for parties, kids' parties, holidays, and of course, anytime! These
Caramel Filled Apples
come with an easy homemade caramel recipe that can also be used as caramel dip if you're looking to save a little time.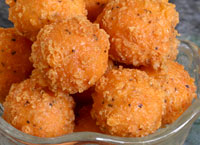 Cheddar Cheese Balls
are light and puffy, and have a delightful outer crispy coating and a golden color. These easy cheese appetizers feature any type of cheddar cheese you prefer (mild, sharp extra sharp, smoky, etc.) and couldn't be easier to make! The cheese mixture is made with a stiffly beaten egg white, which causes the cheese balls to puff and become light and airy inside, while the outer coating becomes wonderfully crispy!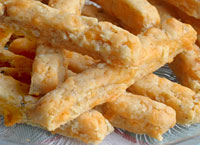 This
Cheddar Cheese Sticks recipe
couldn't be easier to make, and is great for serving at kids' parties or as afternoon snacks! These homemade cheese sticks are made with a simple combination of flour, cheese, fresh bread crumbs, milk and a pinch of cayenne pepper. Simply combine, roll-out, cut into small sticks and bake! You can serve these cheese sticks alone or with a kid-friendly dipping sauce, such as
Zesty Ranch
.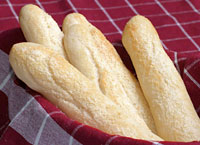 These delicious
Cheese and Garlic Breadsticks
have a very light and fluffy texture and are coated with melted butter, garlic salt and grated Parmesan cheese. They are fabulous on their own, warm, right out of the oven, or served with warm Marinara Sauce for dipping. This recipe is very easy and produces a large batch of breadsticks.
Cheese and Garlic Breadsticks
are great served as appetizers or as a bread side to main courses.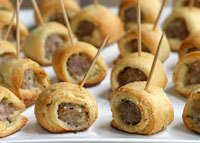 Cheese and Sausage Croissant Bites
are a quick and easy appetizer that require few ingredients. All you need to make these tasty bite-size
sausage appetizers
is a package of crescent roll dough, brown and serve sausage links, some Parmesan cheese, melted butter and dried oregano. That's it! Preparation couldn't be easier, either. No need to cook the sausage before baking. Just roll, bake and serve!