Kid-Friendly Appetizers
Kid Friendly appetizers are not just suited for young folks - they have all the qualities of
appetizers, perhaps just without the "stuff" (or what we call, "ingredients") kids have likely not learned to appreciate yet. Kid-Friendly appetizers and snacks can include anything from
bread appetizers
to
meatballs
to
chicken nuggets
or
chicken strips
, and certainly can include
dipping sauces
! One of the things kids love about appetizers is the fact that they come in petite sizes - almost as though they were designed specifically for kids. Appetizers can be a great way to include some vegetables or other healthy ingredients your kids would otherwise prefer to avoid, such as
Parmesan Broccoli Balls
, while watching them actually enjoying every bite! Kid appetizers are great for social events that include the young as well as the young at heart!
Kid Appetizer Recipes ▼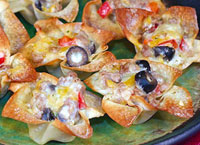 Cheese and Sausage Wonton Flowers
are not only pretty, they are very tasty! The wonton filling is made with browned and crumbled sausage, Monterey jack and cheddar cheeses, diced red bell peppers and sliced ripe olives, then combined with your choice of Chipotle Ranch Salad Dressing or Buttermilk Ranch Salad Dressing and baked in the oven for just 5 minutes. The kids will really enjoy helping you make these appetizers.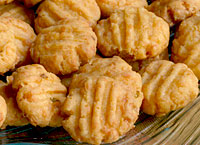 These little pop-in-your-mouth cheese snacks have a hearty yet flaky texture with the distinct flavor of cheddar cheese, and an outer crust with a light crispy crunch.
Cheese Coins
are made with flour, butter, your choice of cheddar or Monterey jack cheese, along with some diced green chiles, pimientos and seasonings. These little cheese appetizers can be served warm from the oven, at room temperature, or cold from the fridge.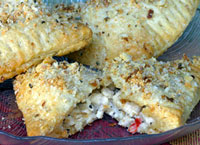 These light and flaky
Chicken Cheese Turnovers
are filled with a delicious mixture of diced chicken (turkey may also be used), cream cheese, chopped green onions and diced pimiento. Before popping into the oven, the turnovers are brused with melted butter and topped with crumbled croutons. The flaky pastry dough can be made from scratch or purchased from the store in pre-packaged form for quicker preparation.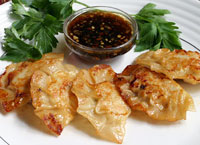 Chicken Pot Stickers
(also referred to as Chinese Dumplings, Gyoza or Jiaozi feature wonton wrappers (or Gyoza wrappers) filled with a pureed mixture of chicken breast, garlic, green onions, water chestnuts, fresh ginger root and Napa cabbage and an egg to help hold the mixture together. This recipe also includes a delicious tangy Asian dipping sauce made with soy sauce, rice vinegar and an assortment of spices.
These chicken meatballs are healthy and delicious!
Chicken Satay Meatballs with Peanut Sauce
are made with shredded chicken breast, diced green onions, garlic, soy sauce, fresh bread crumbs and egg, and are baked in the oven. The meatballs are served with a fabulous sauce made with coconut milk, peanut butter, lime juice, brown sugar, fish or soy sauce, rice wine vinegar, and a touch of cayenne. Great as appetizers or a main course.
This
healthy chicken satay recipe
comes with a fresh and mildly tangy dipping sauce made with coconut milk and coconut cream, along with some curry paste, fresh ginger and fish sauce, as well as green chiles and fresh basil. The chicken skewers are marinated in a tangy and delicious marinade before grilling, creating the perfect flavor compliment to the Coconut Curry Sauce. This chicken dish is perfect as a main course or appetizer!