Kid-Friendly Appetizers
Kid Friendly appetizers are not just suited for young folks - they have all the qualities of
appetizers, perhaps just without the "stuff" (or what we call, "ingredients") kids have likely not learned to appreciate yet. Kid-Friendly appetizers and snacks can include anything from
bread appetizers
to
meatballs
to
chicken nuggets
or
chicken strips
, and certainly can include
dipping sauces
! One of the things kids love about appetizers is the fact that they come in petite sizes - almost as though they were designed specifically for kids. Appetizers can be a great way to include some vegetables or other healthy ingredients your kids would otherwise prefer to avoid, such as
Parmesan Broccoli Balls
, while watching them actually enjoying every bite! Kid appetizers are great for social events that include the young as well as the young at heart!
Kid Appetizer Recipes ▼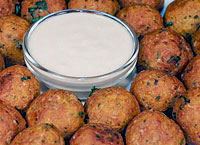 Garbanzo Ball appetizers
are made with a mixture of garbanzo beans (also known as "chickpeas"), lemon juice, minced garlic a little cayenne pepper and an assortment of herbs and spices. They are perfectly accompanied by a Tahini dipping sauce made with Tahini (also sometimes called "Tehina"), a paste made from ground sesame seeds, freshly squeezed lemon juice and a little water.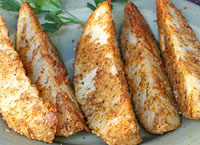 These
Garlic Parmesan Potato Wedges
are as easy to make as they are delicious! Simply cut some Russet potatoes lengthwise to create wedges, toss them in some olive oil, then toss them again with a super easy mixture of parmesan cheese, garlic powder, thyme, salt and pepper and pop them in the oven for 35-40 minutes, and you've got a fantastic tasting side dish, snack or appetizer!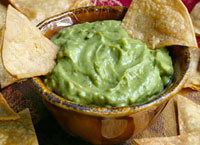 Whether served as a dip, garnish or spread,
Guacamole
is always a big hit and a delicious way to get a healthy dose of vitamins, minerals and omega 3's.
Making guacamole
is a great way to use up those avocados that have been sitting on the counter or in the refrigerator a few too many days and have become a little too soft. This
guacamole recipe
uses ripened avocados, seasonings, sour cream and some fresh lemon juice.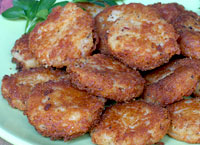 This easy
Ham and Cheese Potato Cakes appetizer recipe
features mashed potatoes combined with ground (or shredded) ham, shredded cheddar cheese, a little prepared mustard and some salt and pepper to taste. For an added kick, a dash of cayenne pepper and/or some minced or finely diced green onions can also be added for more flavor and texture, if desired. These little potato appetizers are also great served with dips!
Making your own
hummus
is as easy as pushing the button on your food processor! This
Hummus recipe
also comes with an easy homemade baked Pita Chip recipe made from pita bread, giving the pita chips a healthy quality as well. This hummus recipe is made with garbanzo beans (chick peas), tahini, garlic, lemon juice, olive oil and a small amount of cayenne pepper, and tastes fabulous with the pita chips.
Honey Lime Melon Balls
can be served with toothpicks as an appetizer or as a colorful
fruit salad
. Cantaloupe, honeydew melon and watermelon come together to create this colorful fruit appetizer that will bring life to any table! Assorted melon balls are marinated in a Honey Lime dressing that gives this fruit appetizer a delightful tart and sweet coating. May be served as a fruit snack, a fruit salad or a light and healthy dessert.