Kid-Friendly Appetizers
Kid Friendly appetizers are not just suited for young folks - they have all the qualities of
appetizers, perhaps just without the "stuff" (or what we call, "ingredients") kids have likely not learned to appreciate yet. Kid-Friendly appetizers and snacks can include anything from
bread appetizers
to
meatballs
to
chicken nuggets
or
chicken strips
, and certainly can include
dipping sauces
! One of the things kids love about appetizers is the fact that they come in petite sizes - almost as though they were designed specifically for kids. Appetizers can be a great way to include some vegetables or other healthy ingredients your kids would otherwise prefer to avoid, such as
Parmesan Broccoli Balls
, while watching them actually enjoying every bite! Kid appetizers are great for social events that include the young as well as the young at heart!
Kid Appetizer Recipes ▼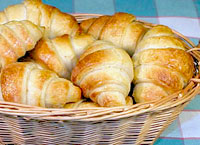 These crescent-shaped
Croissants
are light, flaky and buttery, and are wonderful fresh from the oven, toasted or served at room temperature. These French pastries (also known as crescents or crescent rolls) can be made in any size and can be served in a variety of ways. Small croissants make wonderful appetizers, medium-sized croissants are great as a side dish for any meal, while large sizes can be used for sandwiches.
Deviled Eggs
are an all-time favorite appetizer or snack that can be served any time of day, all year-round. It's also one of the easiest and most economical appetizers you will ever make. The only ingredients needed are eggs, mayonnaise, mustard, a little salt and pepper and some paprika or cayenne pepper to add a little sprinkle of color and flavor. These delicious protein-filled
cold appetizers
are soft, creamy and delicious!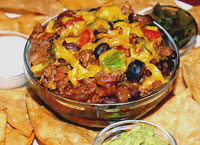 This
Festive Nachos recipe
combines tender lean ground beef, salsa, black beans, avocado and tomato chunks, ripe olives and a hint of chili powder. You can serve this dish with
homemade tortilla chips
and/or warm corn or flour tortillas for filling. Photo shows
Festive Nachos
with served with sides of sour cream, pickled jalapenos and Creamy Guacamole. You can kick this nachos recipe up a notch with a few added ingredients.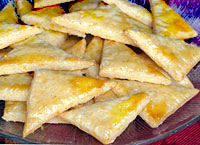 In a very short time and with just a few ingredients, you can create these fun and flavor-packed
cheese pastry appetizers
! These shiny golden petite triangles are made with a combination of flour, a dash of salt and cayenne pepper (giving these snacks the perfect added kick), shredded cheddar cheese and chilled butter. You can cut these little puffy pastries into any shape you like, and can subsitute other cheeses for the cheddar.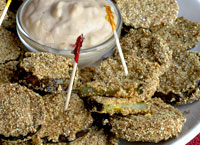 If you're looking for easy appetizers for parties or simply a fun snack for kids, this fried pickle recipe is right up your alley!
Fried Pickles with Tangy Asian Dipping Sauce
feature bread and butter pickle chips (or dill pickle chips if you're a dill pickle fan) coated in a seasoned cornmeal mixture, then fried until golden and crispy. A tangy and mildly spicy dipping sauce featuring a few Asian flavors is served on the side, making this fun snack complete!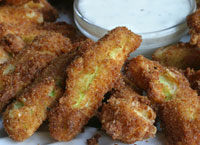 Whether you like to call them fried zucchini sticks or zucchini fries, one thing is certain - these crispy
Fried Zucchini Sticks
are universally enjoyed by everyone, including kids and the young at heart! For those kids who tend to shy away from green vegetables, these fun and tasty Fried Zucchini Sticks recipe will likely make them forget all about the fact that they're actually eating a green vegetable!