Kid-Friendly Appetizers
Kid Friendly appetizers are not just suited for young folks - they have all the qualities of
appetizers, perhaps just without the "stuff" (or what we call, "ingredients") kids have likely not learned to appreciate yet. Kid-Friendly appetizers and snacks can include anything from
bread appetizers
to
meatballs
to
chicken nuggets
or
chicken strips
, and certainly can include
dipping sauces
! One of the things kids love about appetizers is the fact that they come in petite sizes - almost as though they were designed specifically for kids. Appetizers can be a great way to include some vegetables or other healthy ingredients your kids would otherwise prefer to avoid, such as
Parmesan Broccoli Balls
, while watching them actually enjoying every bite! Kid appetizers are great for social events that include the young as well as the young at heart!
Kid Appetizer Recipes ▼
Pesto, Pepperoni and Cheese Pinwheels
are soft and puffy dough snacks filled with fresh pesto, six different types of Italian-style grated cheese and pepperoni slices. These pinwheel appetizers (also sometimes referred to as roll-ups or pepperoni rolls) have an attractive swirl design that captures all the delicious flavors, and make perfect appetizers or snacks, or are great served for lunch or dinner, much like pizza.
This
Pork Dumpling recipe
(or Chinese dumplings) is a fun and flavorful meat appetizer that appeals to all ages! This dumpling recipe features wonton skins that are filled a mixture of shredded pork, soy sauce, sugar, freshly grated ginger root and minced garlic. The wonton skins are wrapped up around the pork mixture and twisted at the top. The dumplings are then are steamed until cooked and placed on a bed of a tangy sauce.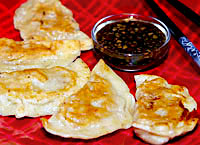 Pork Pot Stickers with Dipping Sauce
, also referred to as Jiaozi or Chinese dumplings, is a fun and tasty Asian dish that is wonderful served as a main dish or as an appetizer. This pot sticker recipe consists of a delicious mixture of ground pork and vegetables wrapped up in small pasta shapes and is served with a delicious dipping sauce that adds just the right flavor and boost for this Asian dish.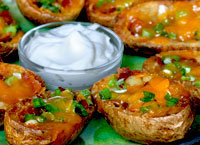 What could be better as a tasty and fun appetizer or side dish than some crispy potato skins filled with all the right goodies?! These
Potato Skins
are first baked, then cut into halves. Some of the pulp is removed, then they're then deep-fried until crispy. The crispy potatoes are then seasoned and filled with crumbled bacon, diced green onion and shredded cheddar cheese, then placed under the broiler until the cheese melts. A big hit!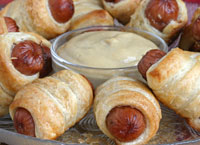 Sometimes the most simple of recipes can be the tastiest! These
Puff Pastry Sausage Bites
(often also referred to as Pigs in a Blanket) are made of mini cocktail weenies (often referred to as Little Smokies, Lil' Smokies or coctail sausages) wrapped in thin strips of puff pastry. The pastry wrapped cocktail weenies are then briefly baked until hot and lightly browned and served with a tasty and tangy Mustard Dipping Sauce.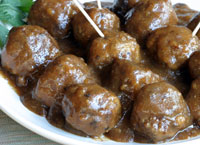 This
Sauerbraten Meatballs
recipe features German style meatballs with a sweet, sour and savory flavor. While the sauce for these meatballs may have an appearance similar to gravy, the flavor will surprise you, as the thickening agent is crushed gingersnap cookies! Because of the spices used in gingersnap cookies, this meatball recipe is also perfect for holiday parties! Also great served as a main dish over pasta or rice.