Kid-Friendly Appetizers
Kid Friendly appetizers are not just suited for young folks - they have all the qualities of
appetizers, perhaps just without the "stuff" (or what we call, "ingredients") kids have likely not learned to appreciate yet. Kid-Friendly appetizers and snacks can include anything from
bread appetizers
to
meatballs
to
chicken nuggets
or
chicken strips
, and certainly can include
dipping sauces
! One of the things kids love about appetizers is the fact that they come in petite sizes - almost as though they were designed specifically for kids. Appetizers can be a great way to include some vegetables or other healthy ingredients your kids would otherwise prefer to avoid, such as
Parmesan Broccoli Balls
, while watching them actually enjoying every bite! Kid appetizers are great for social events that include the young as well as the young at heart!
Kid Appetizer Recipes ▼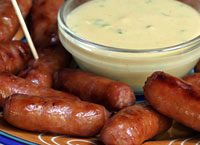 This
mini smoked sausage appetizer recipe
is as easy as it gets! The tangy Dijon cheese dip is made with a combination of processed cheese (such as "Velveeta") and cream cheese, along with a generous helping of Dijon mustard, some dark beer, chopped green onions (the top green portions) and assorted seasonings. The cheese dip can also be served with fresh cut vegetables, flat bread, tortilla chips and more!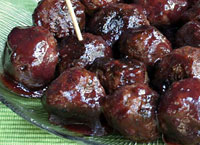 Meatballs with Cherry Sauce recipe
features cocktail-sized meatballs made with lean ground beef and bulk pork sausage combined with fresh parsley, fine bread crumbs, milk, egg and diced onion. Once browned, the
meatballs
are stirred into a divine dark cherry sauce made from pureed canned pitted dark cherries, ground ginger, cloves, cinnamon, freshly squeezed lemon juice and vinegar. Mildly sweet and tangy!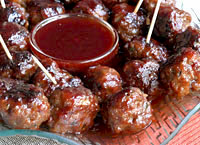 This
Meatballs with Grape Jelly and Chili Sauce recipe
features mini-sized ground beef meatballs seasoned with minced onion, minced garlic, fresh parsley and Worcestershire sauce and tenderized with egg, milk and bread crumbs. The sauce is a simple, quick and easy combination of grape jelly and red chili sauce, which when combined produces a very flavorful sauce enjoyed by both kids and adults. Great for any occasion!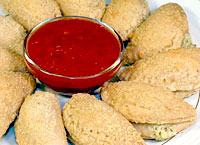 Mini Calzones
are petite appetizers made with your choice of homemade bread dough or pre-packaged dough. These little crescent shapes are stuffed with a mixture of crumbled Italian sausage and a combination of ricotta, mozzarella and Parmesan cheeses. They are then rolled in melted butter, then rolled again in grated Parmesan cheese, and baked in just 15 minutes until golden. Delicious served with
marinara
.
This
Mini Honey Apple Tarts recipe
is amazingly easy to make, and requires only a few simple ingredients. All you need to make these mini apple tarts is a package of puff pastry and 1 or 2 apples. If you have sugar, cinnamon and honey in your pantry, you're set to go! Simply cut the puff pastry into circles, then top with thinly sliced apples and sprinkle with a cinnamon, sugar and nutmeg mixture, then bake! Drizzle with honey and enjoy!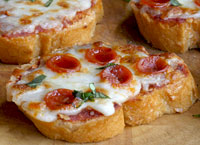 If you're looking for fun and easy kid-friendly appetizer recipes, these
Mini Pizza Bruschetta
(also sometimes referred to as crostini) are really the perfect snack food, because with just one thin baguette (a long, thin loaf of French bread), you can easily prepare enough kid appetizers to feed a small crowd. These easy mini pizza appetizers can be adjusted to suit anyone's personal taste, simply by adjusting a few ingredients!