Kid-Friendly Appetizers
Kid Friendly appetizers are not just suited for young folks - they have all the qualities of
appetizers, perhaps just without the "stuff" (or what we call, "ingredients") kids have likely not learned to appreciate yet. Kid-Friendly appetizers and snacks can include anything from
bread appetizers
to
meatballs
to
chicken nuggets
or
chicken strips
, and certainly can include
dipping sauces
! One of the things kids love about appetizers is the fact that they come in petite sizes - almost as though they were designed specifically for kids. Appetizers can be a great way to include some vegetables or other healthy ingredients your kids would otherwise prefer to avoid, such as
Parmesan Broccoli Balls
, while watching them actually enjoying every bite! Kid appetizers are great for social events that include the young as well as the young at heart!
Kid Appetizer Recipes ▼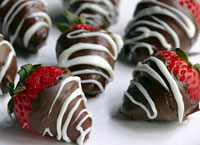 The beauty of
Chocolate Covered Strawberries
is how elegant and delicious they are, and how easy they are to make! You can also coat these Chocolate Covered Strawberries with any variety of toppings (see
recipe
for pictures of examples), such as crumbled peanuts, cornflakes, granola or other cereal, or even crumbled cookies such as Oreos, giving them that Cookies & Cream flavor.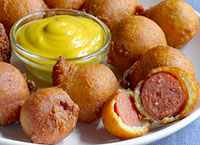 You can easily turn corn dogs into a fun and tasty appetizer with this
Corn Dog Bites recipe
.
Corn Dog Bites
have that same delicious crispy crust and tender hot and steamy inside that Corn Dogs are famous for, and are even easier to make! This photo shows
Corn Dog Bites
made with all beef weenies, but you can also use turkey, chicken, beef or pork weenies. For a surprising twist, cheese-filled weenies can also be used.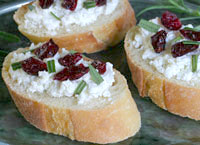 These
Cranberry and Goat Cheese Canapés
are as simple as can be, yet deliver delicious fresh flavor that both adults and kids will love. Also, as you can see by the red and green colors provided by the dried cranberries and fresh rosemary, these canapés are the perfect easy appetizer to serve during the holidays as Christmas appetizers (though they're delicious all-year-long!).
Cranberry Apple Wonton Cups
feature small chopped pieces of apple and dried cranberries baked with a wonderful glaze that adds flavor and a pretty sheen that makes these wonton cups sparkle! These mini apple pies are as colorful as they are tasty, and are appreciated by kids and adults, and everyone in between. They are also very easy to make, and require a short cooking time.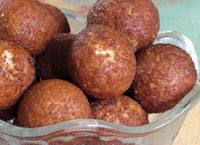 These
Cream Cheese Balls
are quickly fried in oil, giving them golden color with a warm and delicious interior and a crispy, crunchy exterior. These cheese ball appetizers are made with bread crumbs, which give the cream cheese a nice texture as well as a crispy outer crunch when fried. They taste great warm, moments after they've been fried, but also stay nice and crispy and taste just as great when cooled to room temperature!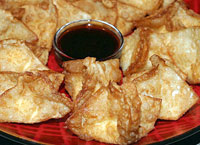 Cream Cheese Wontons
are crispy on the outside with a delightful whipped cream cheese filling inside made with finely minced green onions and water chestnuts. They are served with a mild and tangy soy-based dipping sauce (included with recipe) that truly compliments these appetizers and is unbelievably easy to prepare. This wonton recipe makes 40-45 appetizers, and is a great recipe with which the kids can lend a helping hand!