Kid-Friendly Appetizers
Kid Friendly appetizers are not just suited for young folks - they have all the qualities of
appetizers, perhaps just without the "stuff" (or what we call, "ingredients") kids have likely not learned to appreciate yet. Kid-Friendly appetizers and snacks can include anything from
bread appetizers
to
meatballs
to
chicken nuggets
or
chicken strips
, and certainly can include
dipping sauces
! One of the things kids love about appetizers is the fact that they come in petite sizes - almost as though they were designed specifically for kids. Appetizers can be a great way to include some vegetables or other healthy ingredients your kids would otherwise prefer to avoid, such as
Parmesan Broccoli Balls
, while watching them actually enjoying every bite! Kid appetizers are great for social events that include the young as well as the young at heart!
Kid Appetizer Recipes ▼
Sausage Meatballs with Mustard Dill Sauce
appeal to all ages, and can be made using pork sausage or turkey sausage. They can be cooked on the stove top, baked in the oven, or cooked for several hours in a slow-cooker. The mustard dill sauce is smooth and creamy, with a wonderful hint of mustard and dill, and is easily whipped up on the stove. These meatballs can also be made as a main course over pasta or rice.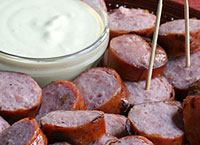 Sausages with Mustard Cream
is a surprisingly delicious appetizer recipe featuring grilled smoked sausages served with a creamy mustard dipping sauce made with whipping cream, Dijon mustard, prepared horseradish, white wine vinegar, egg yolks and a hint of sugar. If you don't have time to fire up the outdoor grill, you can also broil these sausages in your oven. Any type of smoked sausage or kielbasa will work beautifully with this recipe.
Sesame Cheddar Turnovers
are petite and flaky appetizers filled with seasoned cheddar cheese and a small amount of egg, topped with sesame seeds and baked to a golden brown. The dough is made with a generous amount of cream cheese, giving these turnovers fabulous unexpected flavor and texture. These
pastry appetizers
can be served immediately after baking or made ahead of time, frozen and reheated.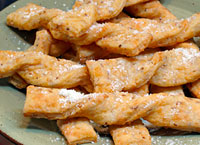 These
Sesame Cheese Twists
are made with a few simple ingredients - grated cheddar cheese, grated Parmesan cheese, toasted sesame seeds, a little chilled butter and some flour mixed with a little salt and a pinch of cayenne pepper. The beautiful thing about these breadsticks is how easy they are to whip up, how quickly they bake, and the fact that you can play around with the types of cheese and spices to give them your own flair.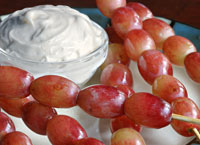 Skewered Grapes served with Cheesecake Dip
are versatile, in that they can be served as party appetizers, party desserts, or as fun fruit snacks any time of day, any time of year. The Cheesecake Dip is made with softened cream cheese, vanilla yogurt, vanilla extract and a little sugar for a touch of sweetness. Once your guests experience how amazing grapes taste with this incredible Cheesecake Dip, they will quickly disappear!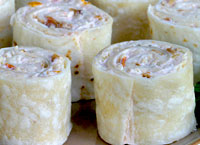 These
Southwest Chicken and Bacon Wraps
(also called "roll ups") are super easy to make and have a fun and festive flavor that pleases all ages! Making these chicken and bacon wraps is a simple matter of mixing the ingredients (cream cheese, salsa, bacon and canned chicken breast) in a bowl, then spreading it onto some flour tortillas. Roll them up, stick them in the fridge until you're ready to serve them, then slice and serve!