Kid-Friendly Appetizers
Kid Friendly appetizers are not just suited for young folks - they have all the qualities of
appetizers, perhaps just without the "stuff" (or what we call, "ingredients") kids have likely not learned to appreciate yet. Kid-Friendly appetizers and snacks can include anything from
bread appetizers
to
meatballs
to
chicken nuggets
or
chicken strips
, and certainly can include
dipping sauces
! One of the things kids love about appetizers is the fact that they come in petite sizes - almost as though they were designed specifically for kids. Appetizers can be a great way to include some vegetables or other healthy ingredients your kids would otherwise prefer to avoid, such as
Parmesan Broccoli Balls
, while watching them actually enjoying every bite! Kid appetizers are great for social events that include the young as well as the young at heart!
Kid Appetizer Recipes ▼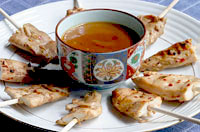 Chicken Satay with Peanut Sauce
is an easy and fun appetizer recipe to make that only takes a few minutes to cook on the grill. Tender thin strips of chicken breast are marinated in a sauce made with soy sauce, lime juice, fresh garlic, fresh ginger root and red pepper flakes. The marinated chicken strips are then pierced with wooden skewers and placed on the grill until they turn a nice golden brown, then served with a tasty peanut sauce.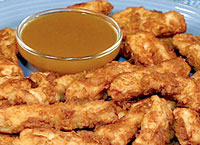 Chicken Strips with Honey Mustard Sauce
is a quick and easy dish loved by all ages. Little strips of chicken breast are coated with a seasoned flour mixture, then fried to a golden brown. A honey mustard dipping sauce made with a simple combination of honey and Dijon mustard is served with the chicken, making this finger food not only tasty, but fun! This dish is great for parties, gatherings and potlucks as a main dish or hot appetizer.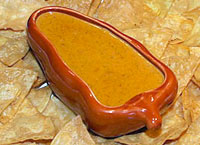 Chili Con Queso
is a tasty cheese and chili-flavored dip that is served warm, traditionally served with tortilla chips (especially great with
homemade tortilla chips
as shown in photo). This festive
dip recipe
combines cheese, chili powder, a small amount of jalapenos and other spices, resulting in a very lively dip with just the right amount of spice.
Chili Con Queso
also goes great with with French fries, fresh raw vegetables or over baked potatoes!
Flavored roasted nuts are always an easy appetizer snack to put together, and a big hit, whether served during the holidays, at parties and social gatherings, or for anytime snacking. These
Chili Roasted Cashews
have a wonderful crispy outer crunch and a delicious mildly spicy, sweet and salty flavor provided by a mixture of chili powder, cayenne pepper, cumin, sugar and coarse salt. Loved by all ages!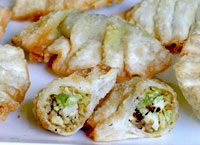 Chinese Tacos
are great for all ages! These Asian dumplings feature wonton skins that are trimmed into circles, then filled with a tasty mixture of minced cooked meat (pork, chicken or beef can be used), diced green onions, diced celery, thinly sliced Napa cabbage and diced Shitake mushrooms (optional), seasoned with soy sauce, curry powder and a dash of white pepper. The wontons are folded, pleaded, then fried until crispy.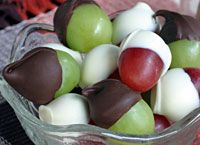 Fruit appetizer recipes are wonderful served as party appetizers or as mini desserts, and are usually very easy to make, as with these Chocolate Covered Grapes! This
Chocolate Covered Grapes recipe
features large green grapes coated with dark chocolate and red grapes coated with white chocolate. Smaller grapes can be used as well, dipping the entire bunch into chocolate, if desired. A colorful and refreshing treat!