Kid-Friendly Appetizers
Kid Friendly appetizers are not just suited for young folks - they have all the qualities of
appetizers, perhaps just without the "stuff" (or what we call, "ingredients") kids have likely not learned to appreciate yet. Kid-Friendly appetizers and snacks can include anything from
bread appetizers
to
meatballs
to
chicken nuggets
or
chicken strips
, and certainly can include
dipping sauces
! One of the things kids love about appetizers is the fact that they come in petite sizes - almost as though they were designed specifically for kids. Appetizers can be a great way to include some vegetables or other healthy ingredients your kids would otherwise prefer to avoid, such as
Parmesan Broccoli Balls
, while watching them actually enjoying every bite! Kid appetizers are great for social events that include the young as well as the young at heart!
Kid Appetizer Recipes ▼
Southwest Chicken Spread
is perfect served as a finger food appetizer or as a fun protein snack anytime. It's also very easy to make, because the ingredients are quickly processed in your
food processor
, which means no manual chopping, slicing or dicing! This tasty chicken appetizer is made with chicken breast, jalapeno peppers, cilantro, freshly squeezed lime juice, cayenne pepper, paprika, sour cream and heavy cream.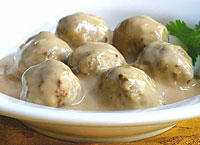 Swedish Meatballs
can be served as appetizers or as a main course with rice, pasta or even potatoes. To make these meatballs as appetizers, simply form them into bite-size balls and serve with toothpicks on the side if desired. Guests can dip each ball into the creamy and delicious sauce that gives these meatballs their famous flavor. This recipe is straightforward and easy, and is always a big hit with all ages.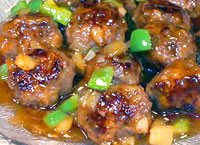 Sweet and Sour Meatballs
are wonderful served as an appetizer for any event, or as a main course over rice. These
Hawaiian meatballs
are made with a mixture of lean ground beef, rolled oats, diced water chestnuts, egg, milk and spices and are browned in the skillet in just minutes. A sweet and tart Polynesian Sauce is then poured over these flavorful meatballs, giving them the final touch of that recognizable Polynesian flavor.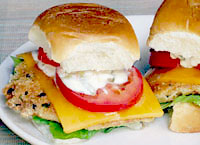 If you're looking for a new and fun, quick and easy way to serve fish that everyone in the family will love, these
Tilapia Sliders
are the perfect answer! These mini sandwiches feature tasty little coated and fried Tilapia filets sandwiched between two soft Hawaiian style buns, together with slices of cheddar cheese, romaine lettuce leaves, tomato slices and a sweet and tangy homemade tartar sauce.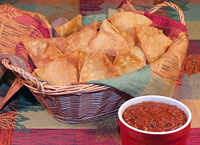 Once you try this
homemade Salsa recipe
, and realize how quick and easy it is to make, premade bottled salsa will never again be able to compare. This salsa is best served with Homemade Tortilla Chips, because of their undeniable freshness and crisp, though packaged chips can also be used.
Salsa
and
tortilla chips
are always a huge hit that offer the perfect perfect blend of flavor and spice, making them a quick disappearing act!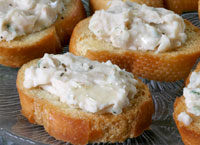 The beauty of this
White Bean Bruschetta recipe
is its simplicity, which appeals to both kids and adults. This bruschetta recipe features small slices of a baguette or ciabatta loaf topped with a puréed mixture of white beans, fresh rosemary, olive oil and seasonings. This recipe is as inexpensive as it is easy, and will feed a small crowd. With just a single baguette or ciabatta loaf and a can of any type of white beans, you're set!